Phase "Zero" Program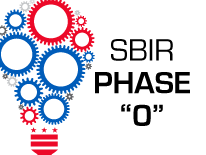 The Phase 0 Program is a new program established by the DC Department of Small and Local Business Development (DSLBD). The goal of the Phase 0 program is to improve the probability of success for District-based companies that are applying to the Federal Government's Small Business Innovation Research (SBIR) and Small Business Technology Transfer Research (STTR) programs.
The District's Phase 0 program will provide funding to assist small businesses with their development of Federal Phase I SBIR/STTR proposals. Any District small business planning to submit a Phase I to any of the eleven Participating Federal Agencies is eligible to apply to the Phase 0 program.
The Phase 0 program will provide up to $1,000 of funding to enable small businesses to offset consulting fees supporting proposal development and review costs. The Phase 0 program will continue until available funds are depleted or lapse. Phase 0 applications are accepted on a rolling, first-come-first served basis so companies are encouraged to apply early.
The Phase 0 application is below.