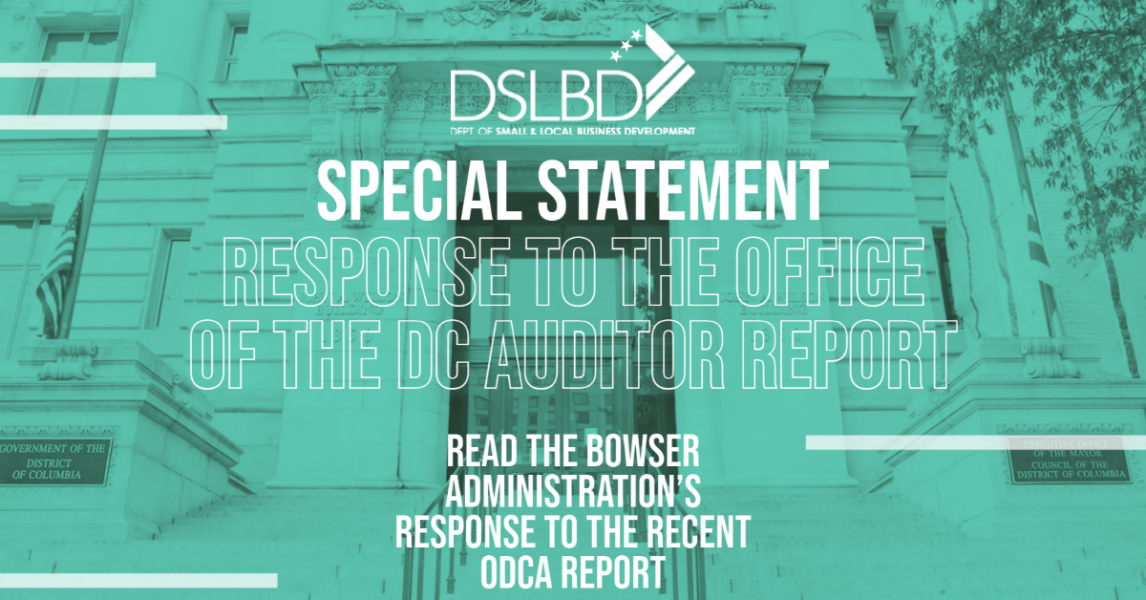 The Executive deems it irresponsible for the Office of the District of Columbia Auditor (ODCA) to release a report that has severe factual deficiencies. It is clear to the Executive that the ODCA's Report based many assertions, findings, and recommendations on an incomplete record, misunderstanding of agency practices, and inaccurate interpretations of District law. Therefore, the Executive cannot support this Report's erroneous and imprudent findings.
A detailed list of DSLBD's concerns on behalf of the Executive can be found as an attachment under the Report's "Agency Comments" section beginning on page 22 (Read the DSLBD Director Kristi Whitfield's Memorandum To ODCA).
Nevertheless, despite its numerous factual inaccuracies, the Report does highlight the urgent need for legislative reforms, some of which have already been undertaken by Mayor Bowser.
The Executive has taken initiative in furthering permanent legislative fixes that protect District local businesses. The Mayor introduced the "Supporting Local Business Enterprises Amendment Act" (B23-959), in September 2020 and then reintroduced (B24-046) again in January 2021. In fact, the Mayor's proposed CBE legislation identifies areas of improvement in the CBE Act that go well beyond the ODCA's recommendations. For example, this legislation already included definitions such as "independently owned, operated, and controlled," in addition to other important improvements, one of the Report's recommendations; the Executive is pleased that Councilmember McDuffie chose to accept its recommendation that this definition be incorporated into the emergency legislation which passed unanimously on June 29, 2021.
But, it has been over 10 months since the Executive introduced these substantive legislative reforms. The Executive urges the Council to make these reforms a priority and looks forward to working together to promptly pass this overdue permanent legislation to close statutory loopholes and add clarity to current law in order to strengthen the integrity of the CBE Program.
The mission of DSLBD is to retain and grow the District's small and local business community. In fact, in FY 2021, those efforts culminated in over $1 billion spent with District Small Business Enterprises, fulfilling the Mayor's commitment to ensure that District dollars are invested into District businesses, keeping our local dollars local, and feeding our local economy.