Retail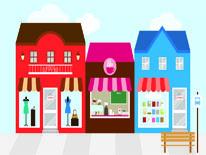 DSLBDs Retail Business Development Division has active projects in each ward, and is working on the development of targeted business assistance services for certain priority areas throughout the city. Programs in this area include the DC Main Streets programs, Business Improvement Districts (BIDs), Storefront Improvement Programs, Retail Business Technical Assistance Services, and Commercial Clean Teams.
These programs ensure that our commercial corridors are clean and thriving parts of our community. The Main Street organizations create a network of support for the businesses within their boundaries. They draw more customers to the businesses and help the business owners respond to customers' needs. Our BIDs cover some of the most commercially active areas of the District and BID programs have generated that activity. Clean Teams provide enhanced sidewalk cleaning in priority commercial districts not served by a BID.
DSLBD supports DC's commercial districts and the diverse set of retail businesses they house with several technical and financial assistance programs. We administer almost $2 million in grants to corridor management programs, such as Main Street and Clean Teams, annually. These grants are allocated by the DC City Council and administered by DSLBD. Some of them are competitive grants. The list below contains our current offerings.
Our programs are designed to help with business attraction, retention and expansion, and to cultivate successful shopping, dining, and entertainment destinations for the District's residents and visitors. Through financial assistance and business counseling, DSLBD helps local businesses add jobs and better serve their customers.