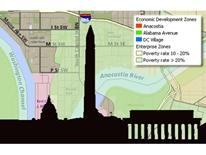 The Certified Business Enterprise (CBE) program's Development Enterprise Zone (DZE) certification category provides businesses located within the boundaries of Enterprise and Economic Development Zones with 2 preference points or a 2 percentage of price reduction when evaluated as a part of a procurement opportunity. Once a business meets the Local Business Enterprise (LBE) requirements for CBE certification, the business can apply for this category as a part of the application process (Certification, Recertification or Upgrade).
To determine if the principal office for your business is located in an Enterprise or Economic Development Zone, use the District Enterprise Zone Finder.
If you have any questions related to this category please contact us at [email protected] or on (202) 727-3900 (select Certification).