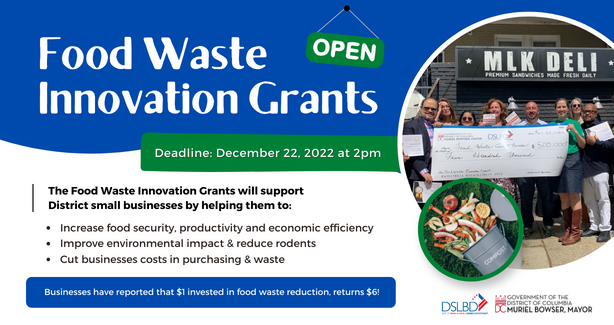 The Department of Small and Local Business Development (DSLBD) is excited to announce that we will be soliciting applications for the FY23 Food Waste Innovation Grants starting on October 24, 2022.
These grants will provide support for restaurants, food manufacturers, shared commercial kitchens, and commercial corridors like Main Streets and Business Improvement Districts to minimize their food waste going to landfill and minimize urban rat populations. This will help businesses meet the goals of Sustainable DC and the future requirements of the Zero Waste Omnibus Act while reducing costs in both food purchasing and waste disposal expenses.
Eligible applicants are food businesses that are appropriately licensed and with fewer than 25 full-time equivalent (FTE) employees. Nonprofits are also eligible when providing direct support for multiple eligible businesses.
DSLBD intends to award between 10 and 25 grants from the $300,000 available for direct grants.
Final Deadline
The absolute final deadline to apply online is December 22, 2022, at 2:00 p.m. Eastern Time, with no exceptions. Applications will only be accepted through the online application system.
Who can apply?
For-profit, licensed businesses that are producing, processing, and/or serving food or beverages are eligible for this grant. This includes restaurants, food & beverage makers, cafes, and caterers. Multiple applicants can also apply together for increased funding; the main applicant will need signed letters of support from each other food business.
Nonprofits will be considered only if they are applying on behalf of a group of two or more businesses who are themselves eligible for the grant. Nonprofits will need to submit signed letters of support from these food businesses. Eligible nonprofits include Main Streets and Business Improvement Districts (BIDs), as well as waste-related or food-focused nonprofits that will serve eligible businesses.
See the Request for Applications for complete eligibility requirements.
How can the funds be used?
The grant funds can be used for technological or process investments, such as: refrigeration and freezing infrastructure to reduce wastage; investments in software to measure and manage food production and better track inventory; equipment and staff training to improve food preparation and serving to reduce waste; food preservation tools like vacuum sealers, dehydrators, and freezers; food transportation to enable another business to upcycle or cross-utilize underutilized ingredients; food donation programs; or waste programs that will compost food waste, compact non-biodegradables, and effectively recycle all that can be recycled.
Additional allowed uses and restrictions will be outlined in the RFA.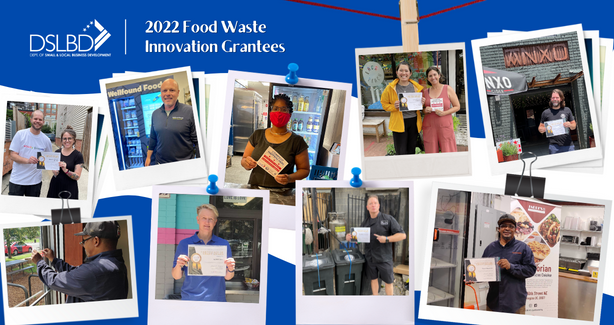 How will awardees be selected?
Grant recipients will be selected through a competitive application process. All applications from eligible applicants received on or before the deadline will be forwarded to an independent review panel to be evaluated. There will be preference for businesses in rodent hot spots identified by DC Health: see below for location details. As outlined in the RFA, applications will prioritize reducing food waste, followed by the increasing donation of edible foods, followed by food waste processing.
A program team will review the panel reviewers' recommendations. The Director of DLSBD will make the final determination of grant awards. Grantees will be selected by March 1, 2023.
How do I apply?
Full guidance and instructions will be available in the Request for Applications (RFA) that will be released on or before October 24, 2022, on the DSLBD website: https://dslbd.dc.gov under current grant opportunities https://bit.ly/dslbdgrantopportunities. Applicants are encouraged to read the full RFA before completing the application.
Questions?
DSLBD will hold virtual information sessions concerning the application process and the grant awards. Details on the date and time of information sessions can be found on DSLBD's Eventbrite page at http://dslbd.eventbrite.com. Applicants are highly encouraged to attend an information session.
Any questions not asked during the information sessions must be submitted in writing to DSLBD at [email protected]. We will not respond to questions over the phone.
Reservations
DSLBD reserves the right to issue addenda and/or amendments subsequent to the issuance of this Notice of Funding Availability (NOFA) or RFA, or to rescind the NOFA or RFA at any time.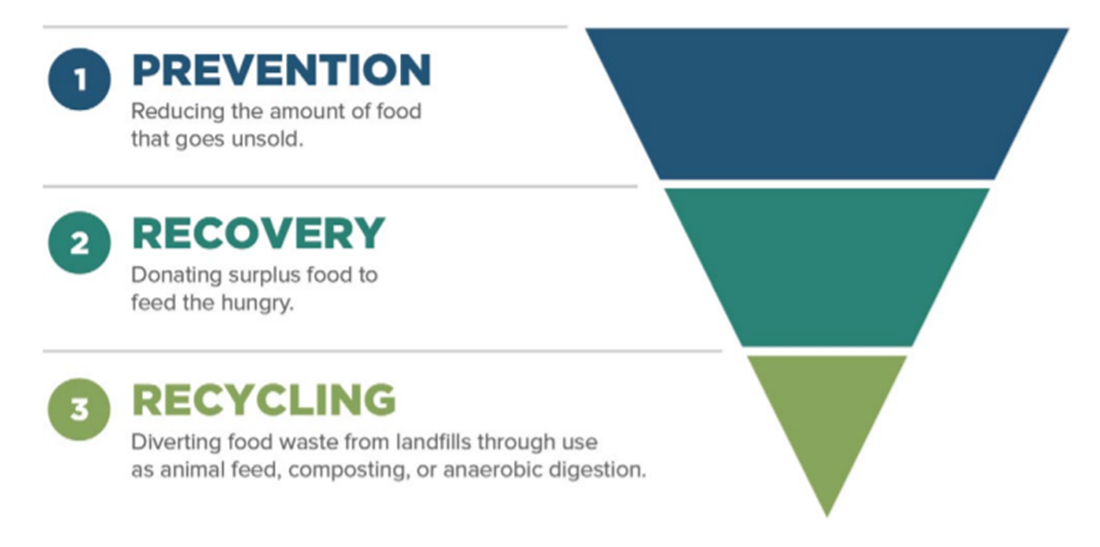 Food Waste Innovation Grants: Frequently Asked Questions (FAQs)
Before applying via ZoomGrants, READ THE RFA: Apply via ZoomGrants™