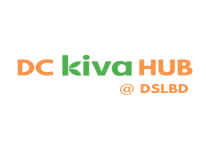 In March 2021, Department of Small and Local Business Development (DSLBD) joined forces with Kiva, a nonprofit worldwide microlender, to offer DC businesses and DC resident entrepreneurs no-barrier, favorable term crowdfunding loans to help them open, operate, pivot and grow their business in the District of Columbia.
Kiva hosts the Kiva.org portal used by $1.7M lenders, and underwrites and manages the crowdfunding loans. DSLBD operates the local DC Kiva Hub by engaging local eligible borrowers, providing application preparation guidance, conducting initial application quality review, coordinating with local partners Trustees to promote and support DC borrowers during their campaign and beyond, and encouraging banks and other entities (managed funders) to consider offering matching funds.
The DC Kiva Hub @ DSLBD offers benefits to
DC Businesses and DC resident entrepreneurs
Individuals seeking to invest locally in small businesses
DC Business Support Organizations
Lenders, Companies and Organizations seeking to financially support DC small businesses
DC Kiva Hub @ DSLBD Ecosystem Comprises:
BORROWERS: DC Businesses and DC resident entrepreneurs access to loans crowdfunded from individual lenders that:
range from $1000 to $15,000 awarded in less than 60 days
can be repaid at 0% interest over 12-36 months
have $0 fees and do not require collateral, credit history or revenue requirements
are available to businesses that experience barriers to financing (see Who May Apply? below)
à Learn how Kiva Crowdfunding loans work
à Get application assistance via Money Mondays workshops or contact [email protected]
à Start a Kiva Loan application
LENDERS: Individuals in DC community and beyond who contribute to support small and local businesses with investing as little as $25, which will be repaid as the business repay their loans
à Start investing with $25 or more in a small, local DC business today
TRUSTEES: Entities that support DC Businesses including nonprofit service providers, DC Government agencies, and business incubators/accelerators that can:
officially endorse a business client for a loan
provide application and post-loan guidance
help promote the business during its public crowdfunding campaign
quantify the impact of their access to capital efforts
Get increased exposure for their organization.
NOTE: Trustees are not legally or financially liable for any borrower they recommend to Kiva.
à Explore becoming a Trustee with DC Kiva Hub's Capital Access Manager [email protected]
MANAGED LENDERS: Companies, organizations, banks and other entities that would like to:
Leverage their funding by providing matching dollars to help DC businesses achieve their crowdfunding goal faster;
Target their lending support to a specific pool of businesses or business owners (e.g., people of color, food industry, veteran-owned businesses, senior entrepreneurs); and
Quantify and track the impact of financial support without having to manage loan underwriting, award and repayment; and
Have the flexibility on if/how they reinvest their repaid matching funds.
à Explore becoming a Managed Funder with DC Kiva Hub's Capital Access Manager [email protected]
Who may apply for Kiva Crowdfunding loans via DC Kiva Hub @ DSLBD?
While any DC-based business at all stages and most industries may apply for a Kiva crowdfunding loan, the DC Kiva Hub's outreach and loan application assistance efforts are particularly focused on borrowers who may have experience barriers to financing their business. Barriers include but not limited to:
Concept or startup stage businesses
No or limited revue
Poor credit history
Past bankruptcies
Limited- or No-English Proficient business owners
Formerly justice-involved business owners
Business without collateral
Food or other business traditional banks may consider "risky"
For more information about DC Kiva Hub @ DSLBD, please contact Camille Nixon, Capital Access Manager at [email protected]
Need Translation?
Department of Small and Local Business Development (DSLBD) can help you start, operate and grow your business in the District of Columbia. Free language interpretation is available. (202) 727-3900
El Departamento de Desarrollo de Negocios Pequeños y Locales puede ayudarle a establecer, operar y hacer crecer su negoio en el Distrito de Columbia. La interpretación gratuita a otros idiomas está disponible. (202) 727-3900
የዲስትሪክት ኦፍ ኮሎምቢያ አነስተኛና አካባቢያዊ የንግድ ሥራ ትብብር ስራዎን እንዲጀምሩ, እንዲፈጽሙ እና እንዲያሻሽሉ ይረዱዎታል. ነጻ ነጻ ትርጉም ይገኛል. (202) 727-3900
地方小企业发展部可以帮助您在华盛顿特区 建立,运营和发展您的企业。我们提供免费的翻译服务。(202)727-3900