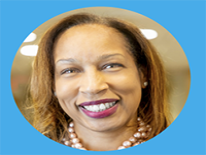 As Interim Director for the DC Department of Small and Local Business Development (DSLBD), Rosemary Suggs-Evans is a passionate advocate for the small business community and stays true to the agency's mission to support the development, economic growth and retention of District-based businesses, and promote economic development throughout the District's commercial corridors.
With a diverse executive background spanning the for-profit, nonprofit, and governmental sectors, Rosemary Suggs-Evans brings a wealth of experience to her role. Prior to her tenure at DSLBD, she served as a senior advisor for the DC Deputy Mayor for Greater Economic Opportunity (DMGEO), where she spearheaded programs and initiatives aimed at expanding access to local procurement opportunities for District-based small businesses. As a program analyst at the DC Department of General Services, she initiated a groundbreaking small business program, ensuring equitable opportunities for local enterprises.
Before dedicating herself to District government, Ms. Suggs-Evans held key roles, including senior manager at Safe Kids Worldwide, where she played an instrumental part in child safety initiatives, and as a special assistant in the White House's Office of Management and Budget, where she championed increased contracting opportunities for women and minority-owned businesses.
Rosemary Suggs-Evans earned her Bachelor of Science in Finance from Howard University, a testament to her strong academic foundation. She proudly resides in Washington, DC, alongside her husband, Greg, and their daughter, Trinity. Her unwavering dedication to uplifting the small business community and fostering inclusive economic growth makes Rosemary Suggs-Evans a prominent and respected public servant in the District.