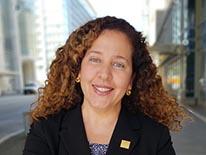 Kristi Whitfield is an executive, an entrepreneur, and an urban planner with over 20 years of experience implementing change. Kristi grew up in Columbia MD. As the product of this planned community, Kristi believes deeply in the impact that place and opportunity has on the well-being of individuals and communities. Because of this, Kristi has spent her career helping move people up the economic ladder in one way or another. She has built affordable housing for vulnerable families. She has designed and implemented classes for aspiring entrepreneurs. She taught classes on economic literacy and micro-business startups. She administered a $65 million pool of funds dedicated to improving neighborhoods. She created training opportunities to help current employees get better paying jobs. Each of her jobs has focused in one way or another on access and/or opportunity.
Kristi joined the ranks of entrepreneurs in 2006 first as a consultant, then at the helm of a transportation and logistics company, and most recently as the co-founder of Curbside Cupcakes. Based on these experiences, Kristi is passionate about driving resources to small businesses and helping them grow.
Kristi lives in Washington DC with her husband Sam and their two boys.