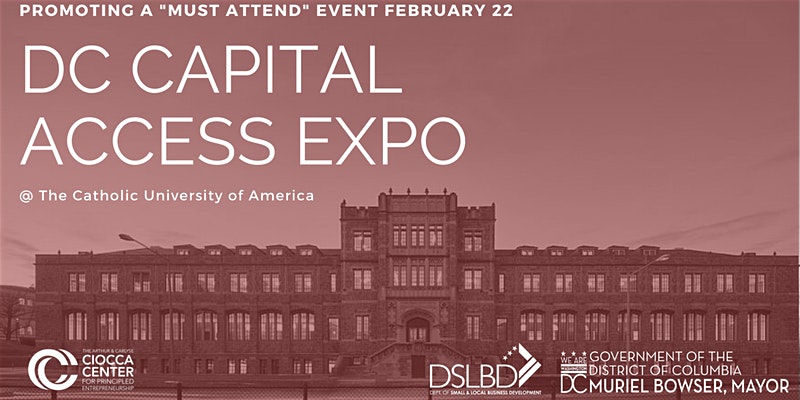 The Innovation and Equitable Development division within DSLBD, also known as Inno.ED, will join the Ciocca Center for Principled Entrepreneurship at Catholic University and SB Works to host an event for small businesses seeking capital to scale their businesses. The Capital Access Expo, a free half-day program taking place on Saturday, Feb. 22 from 8 a.m. - 12 p.m., will give small business owners the opportunity to meet and network with peers and a variety of capital providers, including lenders, Community Development Financial Institutions (CDFIs) and impact investors.
Small businesses attending the Expo will also gain insights into the District's capital access landscape and have ample opportunities for one-on-one meetings with the different funders who will be accessible throughout the event.
Additionally, small business owners will have a chance to get hands on experience with the new DC Capital Connector, an online platform within the District Government that connects small business owners with lenders and bonding companies using intelligent matchmaking capabilities. Attendees at the Expo will be able to register as users and be matched with lenders on the spot. The DC Capital Connector was created through a strategic partnership between DSLBD and the D.C. Department of Insurance, Securities and Banking (DISB).
When it comes to programming at the Expo, industry leaders will facililate workshops that will foster conversations on how small businesses can best position themselves to receive various types of funding and how to manage an influx of capital once it is secured. Additional content will include presentations on the value of "bootstrapping" and a specific spotlight on funding for food and beverage businesses. Nearly 500 small businesses from across the District are expected to attend the Expo.
The Capital Access Expo at CUA will serve as a supplement to the Inner City Capital Connections (ICCC) Program, which is hosted by the Ciocca Center. ICCC Program seeks to help business owners in economically-distressed areas build capacity for sustainable growth in revenue, profitability, and employment and takes place in 14 different cities nationwide.
Small businesses at any stage of their business journey can come to the Expo free of charge and learn more about how to gain access to the capital they need to grow and thrive!