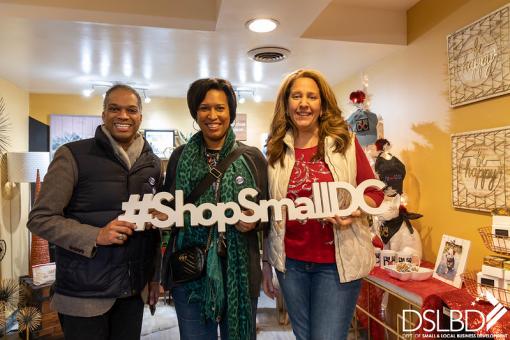 In case you missed it, Small Business Saturday has now grown into a thriving celebration of small businesses in the United States. What was once a small marketing initiative by American Express to grab a piece of the holiday pie that is Thanksgiving weekend is now a nationwide event encompassing thousands of Main Streets and small businesses, including our own here in the District!
Department of Small and Local Business Development (DSLBD) Director Kristi Whitfield started her Small Business Saturday this past weekend (11/30) with a trip East of the River. Joined by Cristina Amoruso, DSLBD's Main Streets program lead, the Director enjoyed stopping by Anacostia Arts Center's Mahogany Books and Nubien Hueman, and made sure to stop and see the progress of Check It Enterprise's renovations. From there, the Director visited Deanwood Heights' Hot Cocoa Crawl at the Randall Memorial United Methodist Church and Congress Heights' Holiday Bazaar at the Old Congress Heights School on MLK Avenue SE.
The remainder of the day included a very special visit to Lee's Flower Shop on U Street Northwest where she joined Mayor Muriel Bowser and Ward 4 Councilmember Brandon Todd for the store's unique holiday event. This event featured young musicians performing at the front of the store while a few DC makers and other small business owners set up small pop-ups throughout the rest of the space, showcasing products such as handmade and custom bar ware, candles and other home decor items.
The Director also visited the District's oldest operating toy store. Sullivan's Toys and Art Supplies, located in Tenleytown's Main Street, is celebrating 66 years in business this year! This family-owned small business sells everything from LEGO's and stuffed animals to miniatures, puzzles, books and magic kits.
Over the holiday season, DSLBD and the Director will be visiting several other small businesses and holiday markets this holiday season. Follow us on social to keep up with our holiday visits! And view more Small Business Saturday 2019 images oin DSLBD's Flickr.
Twitter (@SmallBizDC)
Facebook (@SmallBizDC)
Instagram (@SmallBizDC)