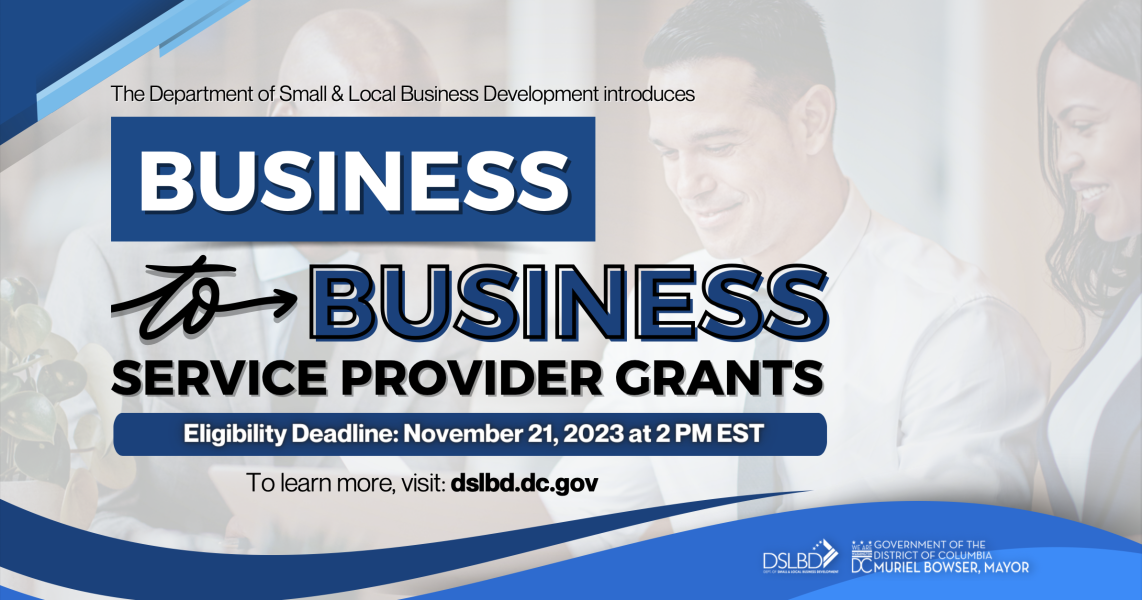 The Department of Small and Local Business Development ("DSLBD") is excited to announce that it will be soliciting applications for the FY24 Business to Business: Service Providers Grant.
The multiple grant recipients will provide services to support other local businesses by offering business development courses, cohort management, and program marketing across several DSLBD programs such as Aspire to Entrepreneurship, Dream Pitch, Food Waste Innovation, and Just Cannabusiness.
To be eligible for this grant opportunity, applicants must be DC-based entities (for-profit and non-profit) that are appropriately licensed and in compliance with the Office of Tax and Revenue's "Clean Hands Certification", and they must maintain and show proof of basic commercial insurance coverage. Full eligibility requirements will be outlined in the official Request for Applications ("RFA") posted on DSLBD's website when the grant opportunity opens.
DSLBD intends to award grants in amounts between $5,000.00 and $50,000.00 from the $400,000.00 available for direct service provision grants.(UPDATED OCTOBER 24, 2023)
Eligibility Deadline
The final deadline to submit eligibility requirements is November 21, 2023, at 2 p.m. Eastern Standard Time. Eligibility documents will only be accepted through the online eligibility portal announced in the RFA. (UPDATED OCTOBER 23, 2023)
Final Deadline
Applicants deemed to be eligible who have submitted the required supporting documents will be invited to the application portal. The deadline will be approximately 3-4 weeks after eligible applicants are invited to the application portal. Only applications submitted through the application portal will be considered.
Who can Apply?
For-profit, licensed DC-based businesses and DC-based non-profits are eligible to apply. See the forthcoming RFA for complete eligibility requirements.
How can the Funds be Used?
The grant funds may be used to cover appropriate payroll for training provisions, event setup and rental fees, product development time for training provisions, cohort management, storytelling and videography, and event planning. Additional uses and restrictions will be outlined in the RFA.
How Will Awardees Be Selected?
Grant awardees will be selected through a competitive application process. All applications from eligible applicants received on or before the deadline will be invited to complete one or more competitive applications per service area available. Complete applications will be forwarded to an independent review panel to be evaluated. Preference will be given to Certified Business Enterprises.
A program team will review the panel reviewers' recommendations. The Director of DSLBD or a designee will make the final determination of grant awards. Grant awardees will be announced between January and March 2024 per service program area, potentially on a rolling basis.
How do I Apply?
Full guidance and instructions will be available in the RFA that will be released on or about October 10, 2023, on the DSLBD website: https://dslbd.dc.gov under current grant opportunities https://bit.ly/dslbdgrantopportunities. Applicants are encouraged to read the full RFA before completing the application.
Questions?
DSLBD will hold virtual information sessions concerning the application process and the grant awards. Recorded information sessions are available on DSLBD's YouTube page.
Applicants are highly encouraged to attend an information session.
Any questions not asked during the information sessions must be submitted in writing to DSLBD at Inn[email protected]. DSLBD will not respond to questions over the phone.
Reservations
DSLBD reserves the right to issue addenda and/or amendments subsequent to the issuance of this Notice of Funding Availability ("NOFA") or RFA or to rescind the NOFA or RFA at any time.
NOTICE OF FUNDING AVAILABILITY FOR FY2024 BUSINESS-TO-BUSINESS GRANT
REQUEST FOR APPLICATION FOR FY2024 BUSINESS-TO-BUSINESS GRANT