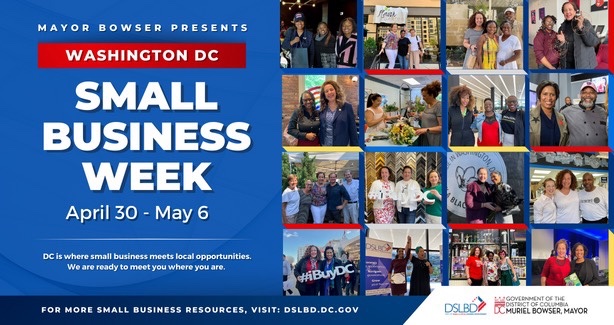 Mayor Muriel Bowser and the Department of Small and Local Business Development (DSLBD) announced DC Small Business Week taking place next week from April 30- May 6, 2023. To honor the District's 70,000 plus small businesses. Mayor Bowser will host a series of events and summits as well as announce upcoming grant opportunities for small businesses throughout the week to highlight further this Administration's continued and ongoing support of small businesses.
"As we celebrate Small Business Week, it's important to remember that behind every small business is a dreamer and a hardworking entrepreneur." says Director Kristi Whitfield. "If you're a DC resident with a small business dream, contact DSLBD today to get the support you need to turn your dream into a reality."
For more than 50 years, the President of the United States has issued a proclamation announcing National Small Business Week, which recognizes the critical contributions of America's entrepreneurs and small business owners. Mayor Bowser is proud to support this effort.
Events during DC Small Business Week 2023 are free to the public but limited space. Attendees are encouraged to register for these virtual and in-person experiences.
UPCOMING EVENTS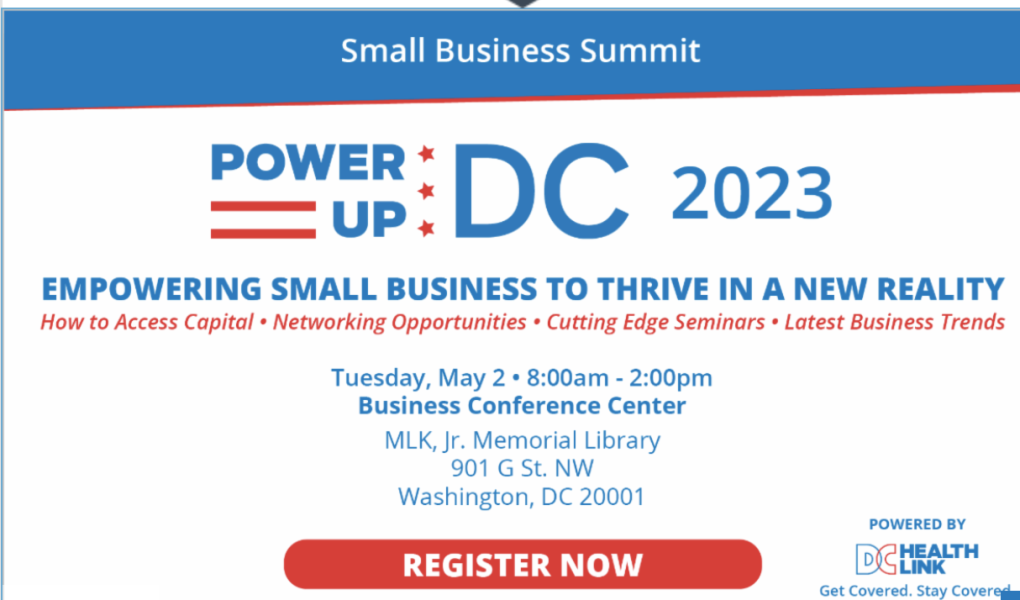 Each year since its inception in 2015, POWERUP DC has been a valuable resource for the DC small business community. Hosted by DC Health Link, its business associates, media partners, and the Small Business Brain Trust, POWERUP DC was developed to celebrate and support the small business community.
POWERUP DC provides enriching business experiences, resources, and networking opportunities through a range of cutting-edge seminars, special events and focused presentations. During POWERUP DC, government and private sector representatives present the latest business trends and contracting opportunities for small businesses.
POWERUP DC 2023 recognizes the major contributions small businesses make to strengthen government and private sector economies.
Every year, small businesses employ more than half of the private work force nationally, create new jobs, drive most of the American innovation, and increase U.S. competitiveness. The small business community of Washington, DC is no exception, and it is important to support its growth and development.
An invaluable resource for small businesses, POWERUP DC 2023 aims to empower the small business community to thrive in a new economic reality. Panelists will engage in informative discussions around access to capital, procurement and contracting opportunities, strategies for resilience and recalibrating in the discovery of a new era and a new normal in the marketplace.
Information, trends, tools, and resources to support the success of emerging businesses, established businesses, women-owned businesses, non-profit organizations, faith-based institutions, and young entrepreneurs' will be provided. Inspiring journeys of small businesses that have prospered in challenging environments will be highlighted and participants will have an opportunity to network with business experts, thought leaders and advocates to learn about access to capital and other strategies to help businesses thrive successfully.
---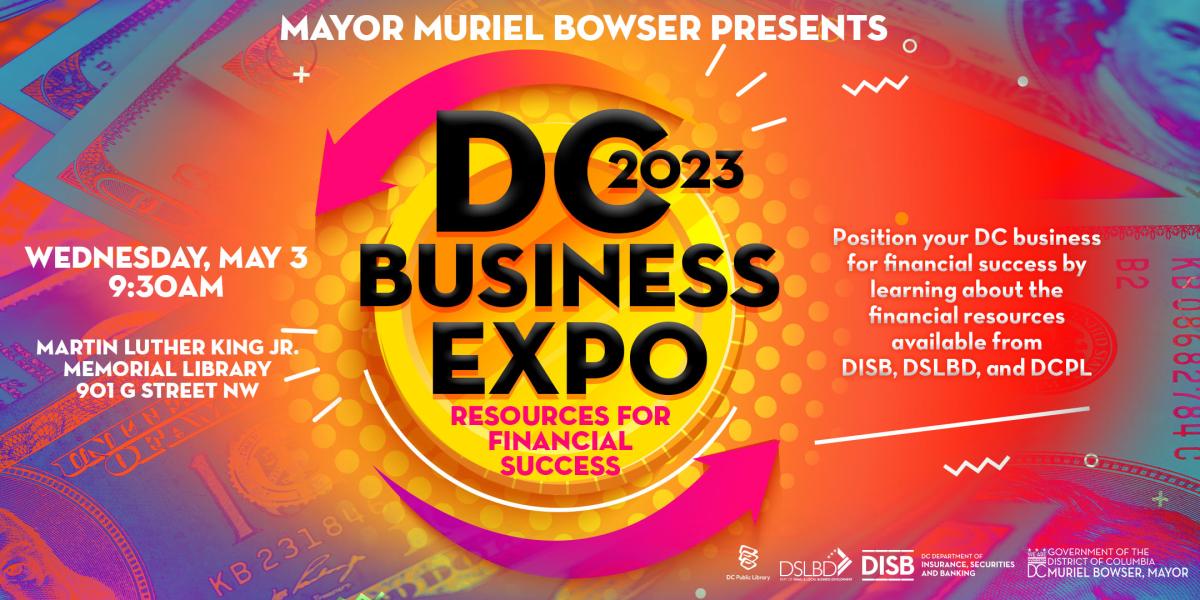 Position your DC- based business for financial success by learning about resources available from the Department of Small and Local Business Development (DSLBD), Department of Insurance, Securities and Banking (DISB), and DC Public Library (DCPL) and how they can facilitate access to capital partners.
This event is open to DC-based businesses and DC residents exploring entrepreneurship. Expo activities include:
Small Group Workshops and Panel Discussions
Funding Prep Needs Assessment with business specialists
District Capitalized Consultations* for eligible businesses with lenders and funding prep specialists
Business Tech Skills Training (Pitch deck creation, Canva and Excel for businesses)
Business Product Creation Tool Overview (3D printing, Podcasting, and more)
Photo Bomb to Brand Your Business with The Labs
Rooftop Networking with refreshments
* To participate in the District Capitalized Consultations activity, interested, eligible registrants must respond by 4/28 to the Consultation Request Email that will be sent to all Expo event registrants. Registration is free, so, sign up today to reserve your spot! Onsite registration the day of the event will also be available.
---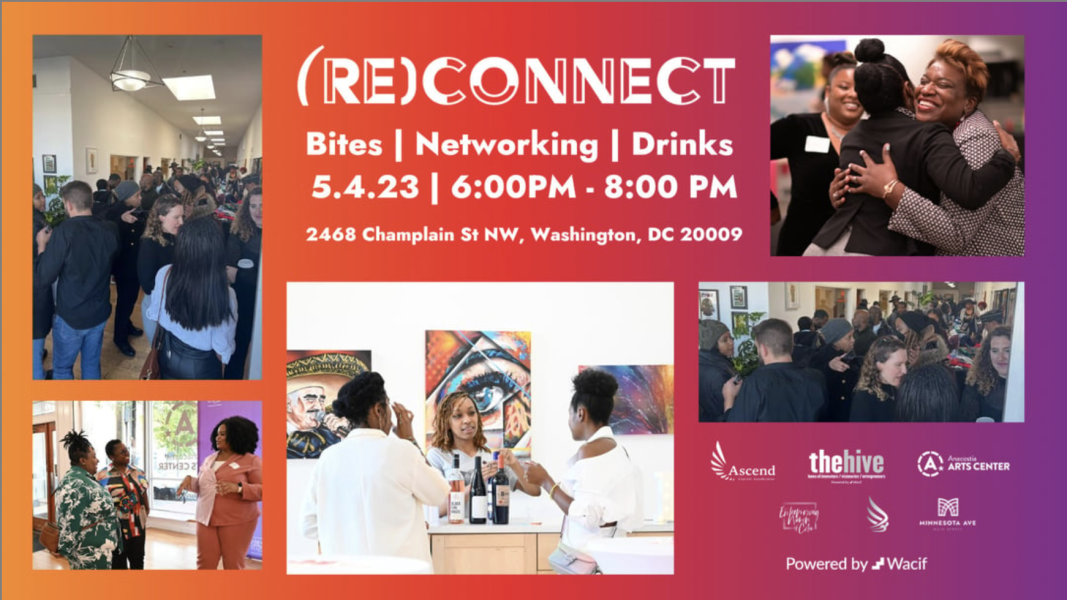 Have you been searching for an event that allows you to build community AND strategy for your small business? Join us at The LINE DC for The (Re)Connect, powered by the Washington Area Community Investment Fund (Wacif), on May 4 from 6 to 8 PM!
As we celebrate National Small Business Week, you will have a chance to:
• Hear from entrepreneurs from Wacif signature program initiatives
• Learn how Wacif can support your small business
• Network with representatives from institutions that support small businesses