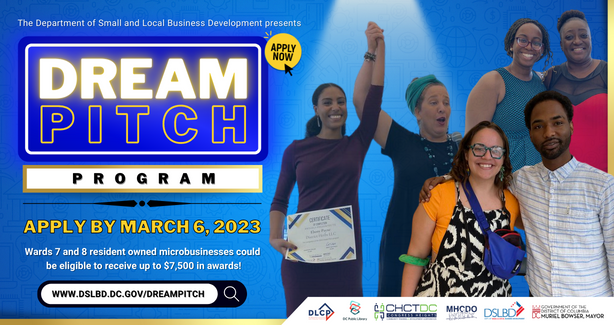 The Department of Small and Local Business Development (DSLBD) is excited to announce that we will be accepting applications for the 2023 Dream Pitch Program starting January 23, 2023.
The Dream Pitch Program is an 8-week cohort-based training program for microbusinesses in Ward 7 and 8, culminating into the Dream Pitch Competition. The Dream Pitch Competition is an opportunity for participants to pitch their business to a panel of judges, showcasing the knowledge gained through the program resulting in a pitch award between $2000 to $7500. Microbusinesses accepted into this competitive program will receive business development training in 4 areas:
Business Pitch
Financial Projections/Accounting
Marketing & Branding
Mentorship
Application Period: January 23, 2023, through March 6, 2023. To determine eligibility and before applying for the program, please review the Official Application Instructions
Final deadline: The final deadline is March 6, 2023, at 2 pm. No applications will be accepted after this deadline. No exceptions.
Apply at http://www.zoomgrants.com/zgf/Dream_Pitch_2023
CLICK HERE TO VIEW Dream Pitch 2023 APPLICATION OFFICIAL RULES
Look for program and application information sessions and paperwork Bootcamp at http://bit.ly/DSLBDeventbrite.
Send all questions in writing to [email protected]. No phone calls will be accepted.