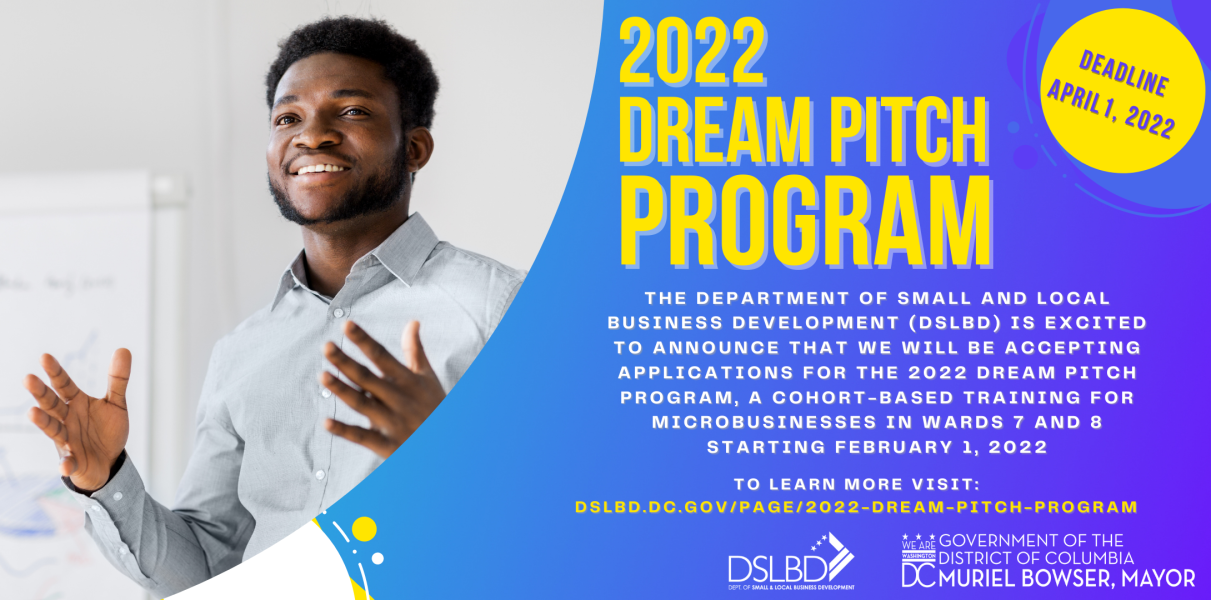 The Department of Small and Local Business Development (DSLBD) is excited to announce that we will be accepting applications for the 2022 Dream Pitch program, a cohort-based training for microbusinesses in Wards 7 and 8 starting February 1, 2022.
Participants who complete all eight weeks of the Dream Pitch program will be eligible to compete in the Dream Pitch Competition. The pitch competition allows participants to highlight their businesses and knowledge gained through the program. In addition, participants will receive feedback from judges and resource partners resulting in every participant receiving a pitch prize award of $2000 to $7500 in addition to in-kind services.
Application Period: February 1, 2022, through April 1, 2022. To determine eligibility and before applying for the program, please review the Official Application Instructions.
Apply at https://www.zoomgrants.com/zgf/DreamPitch2022
Look for program and application information sessions and paperwork Bootcamp at http://bit.ly/DSLBDeventbrite.
Send all questions in writing to [email protected]. No phone calls will be accepted.
Below is a list of free resources to support you in collecting your eligibility documentation for your application.
In What Ward is My Home or Business?
Photo ID Needs - Drivers' License or Non-Driver Identification Card
Photo ID Needs - Passport
Computer Access
Scanning Documents
Additional Application Assistance