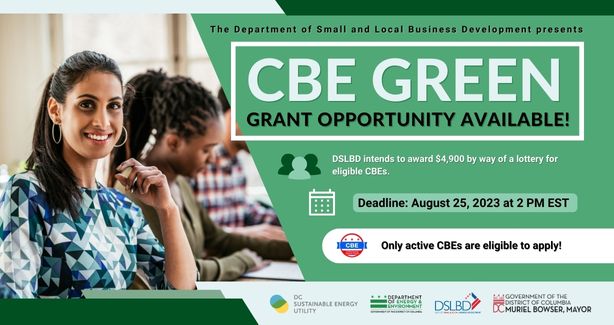 In partnership with the Department of Energy and the Environment(DOEE), The Department of Small and Local Business Development (DSLBD) is excited to announce that it is accepting applications for the second round of Certified Business Enterprise (CBE) Green Contract Services Grants ("CBE Green") for Fiscal Year 2023. CBE Green, an initiative within DSLBD and funded by DOEE, will award grants to CBE service firms to provide critical back-office supports to other CBEs - certified small business enterprises (SBEs), resident-owned businesses (ROBs), or disadvantaged business enterprises (DBEs) interested in pursuing contract and procurement opportunities with and similar to the DC Sustainable Energy Utility (DCSEU), an entity committed to helping District residents, businesses, and institutions save money through energy efficiency and renewable energy programs. DSBLD seeks a market opportunities study, direct marketing to and of CBEs, and back-office direct services and training in topics and areas that would strengthen CBEs' preparedness and competitiveness for green energy-related procurement opportunities. The grant opens on October 19, 2022, and will close on December 2, 2022, at 2:00 PM (EST).
Who Can Apply?
Current Certified Business Enterprises (CBE) are eligible to apply.
DSLBD maintains a database of all active Certified Business Enterprises (CBEs). The database is updated in real time when a business is certified by the Department. The database includes a business profile for all CBEs that contains the CBE contact information, business description, and NIGP codes. To learn more about CBEs, click here.
How Do I Apply?
All instructions are included in the formal "Request for Applications" (RFA), available for download on DSLBD's website on October 19, 2022. Applicants are encouraged to read the full Request for Applications.
Questions?
We will hold online virtual information sessions. Applicants are highly encouraged to attend a virtual information session. Details on information sessions can be found on the Eventbrite page using the following link: http://bit.ly/DSLBDeventbrite.
- Building Energy Performance Standards (BEPS)
The Building Energy Performance Standards (BEPS or Standards) were outlined in Title III of the  Clean Energy DC Omnibus Act of 2018. The BEPS is a minimum threshold of energy performance that will be no lower than the local median  ENERGY STAR  score by property type (or equivalent metric).

The standards were created to drive energy performance in existing buildings to help meet the energy and climate goals of the Sustainable DC plan — to reduce greenhouse gas emissions and energy consumption by 50% by 2032. This presentation will cover the basics of the BEPS and what they mean for the regulated building community.
- Train Green Information Session (FREE training for CBEs!)
The District of Columbia Sustainable Energy Utility (DCSEU) helps District residents, businesses, and institutions save energy and money through energy efficiency and renewable energy programs. Led by the Sustainable Energy Partnership and under contract to the Department of Energy & Environment (DOEE), the DCSEU is committed to environmental preservation, community engagement, and economic development.

In this video, learn more about their many Train Green training and certification opportunities for CBEs and DC residents to learn specific green skills required for DCSEU subcontracts and more!
Final Deadline: The absolute deadline to apply online is December 2022, at 2:00 PM eastern, with no exceptions. Applications will only be accepted through the online application system listed in the Request for Applications (RFA) on DSLBD's website.