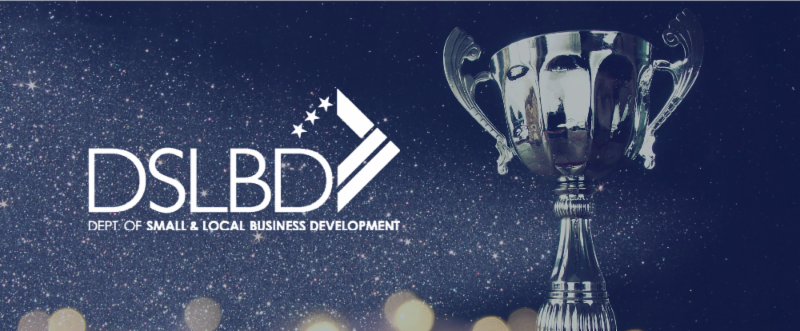 DSLBD, in partnership with the D.C. Chamber of Commerce, will present its annual Small Business Awards during the 2020 Small Business & Economic Development Summit on March 24, 2020.
The summit and awards ceremony is the Chamber's annual event that recognizes the accomplishments of local businesses, and connects corporate buyers with companies based in the D.C. area.
DSLBD's award categories:
Retailer of the Year
Sustainability & Innovation: Business of the Year
CBE of the Year
These awards recognize the most dynamic, innovative entrepreneurs and companies in the District of Columbia.
VOTE NOW! (Voting has now ended.)
The event is free but registration is REQUIRED. Learn more about the 2020 Small Business and Economic Development Summit and register HERE.
Join us to celebrate the winners on March 24th! Below are the small businesses across the District who were up for the awards in each category. Winners will be announced at the Summit!
2020 Nominations
Retailer of the Year - The recipient demonstrates excellence in the D.C.'s neighborhoods and communities and has made significant contributions to the local economy. Their work reflects the quality, dedication, inspiration, possibility, and creativity that embody Washington, D.C. The recipient demonstrates exceptional leadership while engaging internal and external peers in support of the retail community.
Sustainability & Innovation: Business of the Year - This award recognizes D.C.-based companies that are using technology and innovation or environmentally conscious business practices to have a significant impact on business, the industry or society.
CBE of the Year - The recipient is a change agent who has demonstrated exceptional leadership in guiding their company to success, and shared their knowledge and wisdom with peers as a mentor. The recipient will have demonstrated consistent growth and strong financial performance, understands its customers, has an engaged workforce with effective leadership, and is continually innovating to support future growth within their respective industry.