DC Holiday Market Central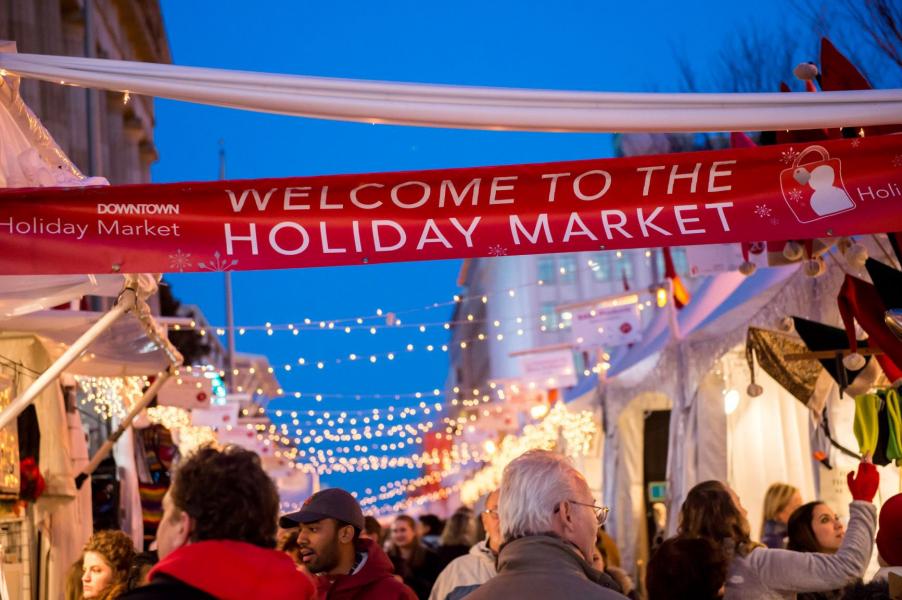 DSLBD's Made in DC Program, managed by the Inno.ED division, aims to support and promote businesses that design, make, produce, and/or assemble products in the District of Columbia.
As a response to the momentum and growth of the maker and creative economy in Washington, DC, Made in DC functions as a citywide campaign and platform to create opportunity for maker businesses. Made in DC brings businesses together for resource and experience sharing, as well as function as a conduit and messenger between makers and local government.
As such, Made in DC is proud to promote its Holiday Market Central! For the 2019 holiday season, there are currently dozens of markets that will pop-up in the District that will feature local makers! Mark your calendars and help support small business owners and local makers this holiday season. Holiday markets are being added every day, so make sure to keep checking this site. And, if there are markets you would like to add to this list that is not here, please email [email protected].
Downtown Holiday Market
Location: 8th and F St. NW
Dates/Times: November 23–December 23; 12:00 p.m. to 8:00 p.m. Daily
Enchant Christmas
Location: Nationals Park
Dates/Times: November 22nd- December 29th, 4:00pm-10:30pm
Holiday Market Pop Up at The Tavern
Location: The Tavern, 3333 M Street, NW
Dates/Times: November 23rd - December 21st, 12:00pm-4:00pm
The Holly Days
Location: Eastern Market Main Street, 700 Pennsylvania Ave, SE
Dates/Times: November 30th - December 31st, Times to be announced
Go Anacostia Holiday Pop-Up Market
Location: 2228 MLK Jr. Avenue, SE
Dates/Times: November 30 - December 22, 10 am - 6 pm (everyday)
Go Anacostia Holiday Market
Location: Maple View Flats, 2228 Martin Luther King Ave, SE
Dates/Times: November 30th- December 22nd, 8:00am-8:00pm
Winterfest at Wundergarten
Location: 1101 First St. NE
Dates/Times: December 6 - 22
Shop the Square Holiday Market
Location: The Wharf District Square, 760 Maine Ave SW
Dates/Times: December 13th-15th, 5:00pm-10:00pm
Van Ness Holiday Pop Up Shop
Location: 4340 Connecticut Avenue, NW
Dates/Times: December 13th 5:30pm-8:00pm, December 14th 10:00am-4:00pm, December 15th 11:00am-4:00pm
Procrastinator's Holiday Market
Location: Art Enables, 2204 Rhode Island Ave. NE
Dates/Times: December 14, 12:00pm-8:00pm
Upshur Street Craft Fair
Location: Petworth Area, 800 Upshur Street, NW
Dates/Times: December 14th, 11:00am-4:00pm
Holiday Bazaar 2019-By DC Swim Week
Location: 2101 Wisconsin Ave, NW
Dates/Times: December 14th, 12:00pm-6:00pm
The Holiday Edition of Arty Queers: DC's LGBTQ Art Market
Location: The DC Center, 2000 14th Street, NW #105
Dates/Times: December 14th, 11:00am- 5:00pm
The Outrage Holiday Market
Location: 1722 14th Street, NW
Dates/Times: December 14, 1 pm - 5 pm
DC AF- Meet Your Maker (s) Holiday Pop Up Market
Location: Union Market, 1309 5th Street, NE
Dates/Times: December 14th and 15th, 11:00am-6:00pm
Moreland's Tavern Cocktails and Crafts Holiday Market
Location: Morelands Tavern, 5501 14th Street, NW
Dates/Times: December 16th 5:00pm- 9:00pm
Midlands Holiday Market
Location: The Midlands 3333 Georgia Ave, NW
Dates/Times: December 17th 6:00pm- 9:00pm
The Reall Big Holiday Market
Location: Eaton Hotel (1201 K St. NW)
Dates/Times: December 21, 1 pm - 8 pm
"More than Bread Alone" Cooperative Holiday Market
Location: Bread for the City 1525 Seventh Street, NW
Dates/Times: December 20th-22nd, December 20th 5:30pm-10:00pm, December 21st, 12:00pm-9:00pm, December 22nd 12:00pm-6:00pm