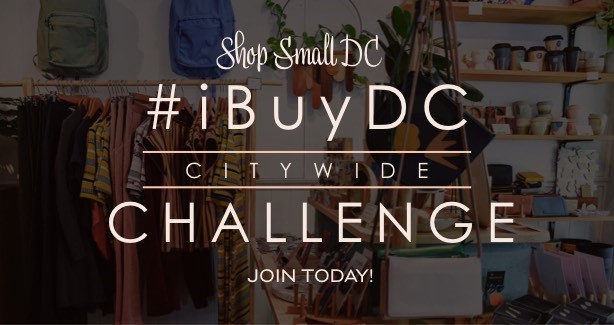 The DC Department of Small and Local Business Development (DSLBD) launched a citywide campaign to further support and promote District businesses. This campaign, the #iBuyDC Challenge, allows residents and businesses to showcase how they support the local economy everyday while highlighting the local businesses they love to visit and challenge their friends and family to do the same to keep the challenge going.
At the start of this campaign DSLBD Director Kristi Whitfield joined Deputy Mayor for Planning and Economic Development John Falcicchio and local entreprenuer & founder of The DC Pop-Up Collaborative Rahama Wright to speak with NBC4 Washington to speak with the region about the importance of small businesses and how we support them in the District (View Video Below).
Since it's launch, the #iBuyDC Challenge continues to be shared by residents across the District including agency directors, councilmembers, and even world renowned Chef Jose Andres. Also, it has garnered national attention with Vice President-Elect Kamala Harris and husband, Douglas Emhoff, joining Mayor Muriel Bowser joining at DSLBD's 3rd Annual Made In DC Booth at the Downtown BID's Holiday Market for some Small Business Saturday shopping.
Had a wonderful time getting some Small Business Saturday shopping done with @DouglasEmhoff this morning at the outdoor @dtwnholidaymkt. Thank you, @MurielBowser, and everyone who supported small businesses not just in our communities but all over the country today. pic.twitter.com/4KAbCF85X9

— Kamala Harris (@KamalaHarris) November 28, 2020
#iBuyDC from @BailiwickCrewDC and challenge @chefjoseandres, @SpeakerPelosi, and Dave Chappelle to support our local businesses through the #iBuyDC challenge! pic.twitter.com/tY772otRPV

— Mayor Muriel Bowser (@MayorBowser) December 9, 2020
Here Is How You Can Join The #iBuyDC Challenge

Click Here To Join The Conversation
Great Examples Of The #iBuyDC Challenge In Action
Some sweets are good & others are mmm mmmm good!! Director @WhitfieldKristi popped into @CapitalCandyJar for a tasty treat & you should too at @DtwnHolidayMkt. We #iBuyDC Challenge @maryrandolph - @DCDHCD; @atrueblood - @opindc; Angie Gates - @entertain_dc; and Sarosh - @DMPEDDC! pic.twitter.com/N6bGdCZF9D

— DSLBD (@SmallBizDC) November 27, 2020
I challenge @DC_OCA Kevin Donahue to participate in the #iBuyDC Challenge by shopping local like I did at @CherryBlossomHQ #DCHOPE #shopsmall pic.twitter.com/NJtwyX4eJc

— John J. Falcicchio (@falcicchio) November 28, 2020
Spent #SmallBusinessSaturday in Eastern Market shopping at Joe Shymanksi's awesome photo stand, where Al helped me picked up a some great items. #iBuyDC and challenge @TalamanteDC @CavendishBetsy @lejamielgoodall @LamontDC @LindseyVParker to show me what you got! pic.twitter.com/z78FTsYs0l

— Steve Walker (@stevenlwalker) November 28, 2020