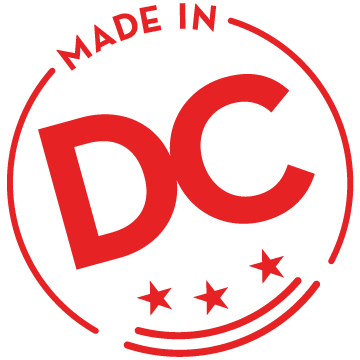 Made in DC
The Made in DC program supports and promotes DC resident-owned businesses that make products locally, including intellectual property (music, art, patent, and written works).
Become a member - Enroll today and join a vibrant and creative business community. Made in DC is a DC government certification program operated by DSLBD. By applicable law, DSLBD will ask you to submit information to verify the following four criteria:
Is your primary office/business located within the District of Columbia?
Do you possess a current and active DC business license?
Do you certify that either the majority of owners are District residents or 51% or more of your employees are District residents?
Can you certify that 51% of your product is designed, produced, assembled, or manufactured through a process involving intellectual property, ingredients, raw materials, or other components derived from the District of Columbia?
Why join?
As a member, you will receive a profile on our website, access to technical assistance, workshops, training, and networking opportunities, and permission to utilize the Made in DC logo.
To sign up, visit: BECOME A DC MAKER
Have more questions? Email [email protected] or call (202) 727-3900.
UPCOMING EVENTS:
August 5: Makers Mingle