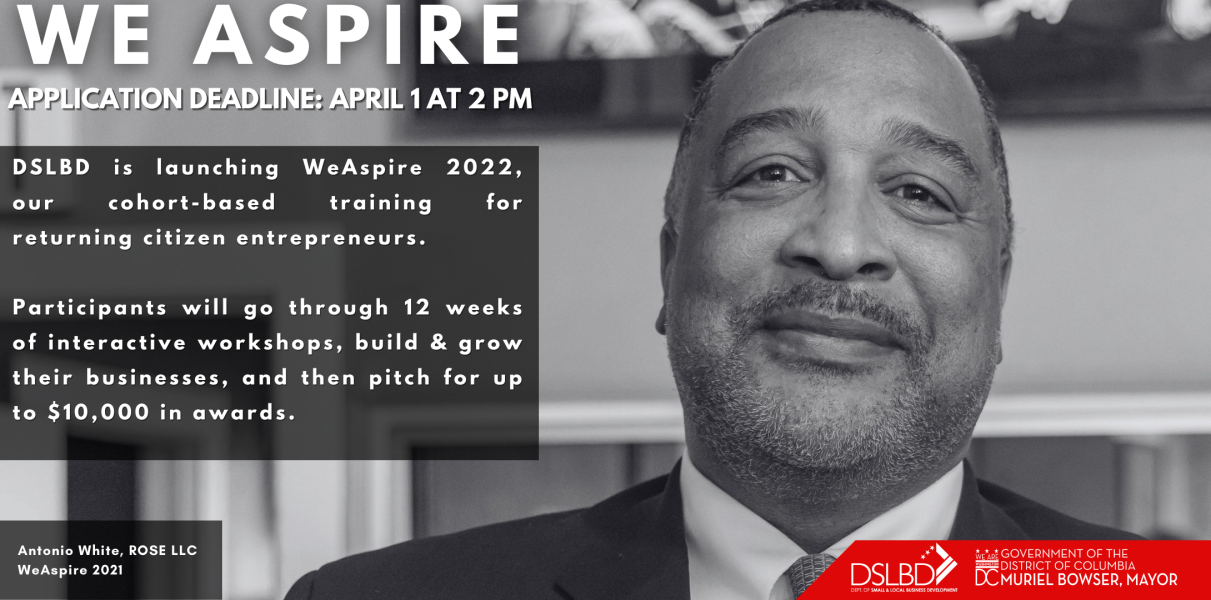 In 2022, DSLBD will provide cohort-based training for 40 returning citizen entrepreneurs, including both new businesses or aspiring entrepreneurs and established businesses. Over twelve weeks, participants will gain essential skills to build and grow a business. These sessions will include:
Interactive workshops with skilled professionals, DSLBD staff, as well as other District government agency representatives

Sessions with returning citizen business leaders

Trainings to build skills in public speaking, business finances, regulatory compliance, social media, and making a business pitch

Every participant will be prepared to take the next step in their business!
Participants who complete the training will be eligible for Aspire Pitch 2022 -- a pitch competition for entrepreneurs to get essential feedback from judges, resource partners, and the community, plus a chance to highlight their business to the District of Columbia! Businesses will get input and in-kind contributions from enthusiastic judges. Every participant in Aspire Pitch 2022 will win at least $2,000 to grow their business or business idea. DSLBD plans to award several $10,000 prizes for Aspire Pitch top prize winners 
Application for WeAspire 2022
Eligible applicants are District residents who are returning citizens and committed to attending all sessions of the Aspire cohort. We require proof of residency, but DSLBD staff will support applicants upon request with additional resources to identify or obtain required documentation. Email [email protected] if you have any questions about demonstrating residency.
Applications are now being accepted and will be accepted through April 1, 2022, at 2:00 pm. Applications submitted before March 8, 2022, at 2:00 pm, will receive a courtesy application review to ensure all necessary materials have been submitted. Detailed rules of application are attached below.
Applications require you to share your motivation for this program and launch your business. You are welcome to submit that in written form or audio or video upload. The application also requires a letter, video, or audio recording from a friend or family member supporting you and your business idea, plus vouching for your commitment.
CLICK HERE TO VIEW WeAspire 2022 APPLICATION OFFICIAL RULES
Learning About WeAspire 2022
DSLBD will be hosting a series of events throughout March and April to discuss the WeAspire 2022 program. Overviews of the program and the application will take place virtually on both daytime and evening times on several dates in February and March, including:
You can find all upcoming events and register on DSLBD's Eventbrite. You can watch past sessions on DSLBD's YouTube channel.