Wednesday, February 8, 2023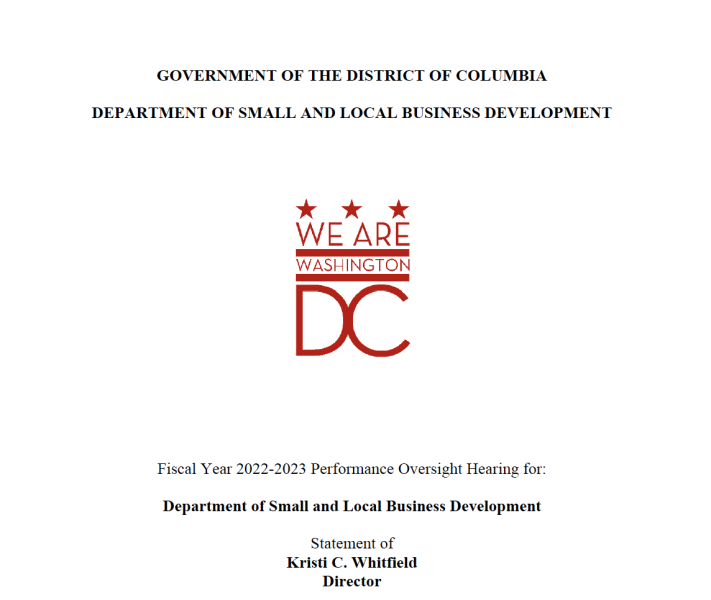 Before the Committee on Business and Economic Development The Honorable Kenyan McDuffie, Chairperson
Good morning, Chairperson McDuffie, members of the Council, the local business community, and residents of the District of Columbia. My name is Kristi C. Whitfield, and I have the privilege of serving as the Director of the Department of Small and Local Business Development, also known as DSLBD.
Thank you for the opportunity to testify at today's Performance Oversight hearing about the impactful work and recent achievements of the agency.
DSLBD's mission is to support the development, economic growth, and retention of District-based businesses and to promote economic development throughout the District's commercial corridors.
To further this mission, DSLBD continues to raise the bar in supporting our local economy by upholding the work of local makers and retailers, advocating for certified businesses which keep local dollars local, expanding growth opportunities for equity participants, and green housing new ways to ensure that programming is relevant and meets businesses where they are at every stage of the entrepreneurial lifecycle.
This past November marked my fifth year at the helm of the agency. In some cultures, the number five symbolizes positive change, lessons learned, and new beginnings. And, in Roman mythology and certain faiths, odd numbers, generally, are said to bring good fortune.
So, fresh off the heels of ringing in the 2023 New Year, starting the new Council Period 25, and celebrating the historic third term of Mayor Bowser, I cannot help but feel that this serendipitous alignment of odd numbers is a sign of the good fortune that lies ahead for all those who live, work, and play in the District.
But numerology and luck aside, I know that this unfettered sense of optimism is built from the real and tangible progress that this Administration and the team at DSLBD have made in support of our local enterprises. Despite the very real and residual impacts of the pandemic, 2022 was a milestone year of palpable "bests and firsts" for many businesses, bolstering DC's reputation as the District of Comebacks and further reinforcing DC's leadership status on the national stage when it comes to building pathways to success for small businesses.
The District remains a true beacon of success for local entrepreneurs, and as Mayor Bowser said when she quoted Vince Lombardi at her recent swearing-in, "winning is not a sometime thing; it's an all-the-time thing." And in 2022, DSLBD proved that it is committed to helping our businesses win all… the… time. This past year, Mayor Bowser presented the best and most successful DC Art All Night in the festival's 11-year history with 22 DC Main Streets, four (4) Business Improvement Districts, and seven (7) DC libraries hosting over 600 activations at over 275 venues with 160,000 attendees across all eight (8) wards.
Art All Night highlights the intersection of art and business and has proven to be the largest display of culture, commerce, and community for our local creatives incorporating a celebration of a myriad of art forms, including: visual and performing arts, painting, photography, sculpture, crafts, fashion, music, dance, theater, film, poetry, and literary arts in both indoor and outdoor public and private spaces. I've heard personally from many participants that Art All Night yields their most profitable weekend, with entrepreneurs boasting an average 41.5% increase in sales.
The following month, we were proud to build on this feat by bringing back the third annual District Connect, our small business contracting expo, live and in person, in collaboration with MLK Library. This highly successful event brought together over 500 small business owners, allowing them to connect and fellowship with one another, contracting staff from District agencies, private enterprises looking to spend with local businesses, and expert lenders committed to connecting them to capital.
The key takeaway is that DSLBD continues to ensure that this program, and all others, is increasingly relevant for our businesses. For example, 2022 District Connect was unique in that we intentionally partnered with OCFO to help businesses streamline a resolution for Clean Hands issues, something we heard can be a barrier for some to doing business with government. From this event, one business left with Clean Hands on the spot, a testament to the power of reframing programming based on the feedback of those we serve. Demystifying the licensing process for businesses and ensuring that they leave DSLBD's events with proven results truly shows how government is breaking down more barriers to ensure businesses avail themselves to grant and procurement opportunities – opportunities that they may have been previously foreclosed from. This is how we are advancing the equity goals that I know the Council and the Administration share.
Just a block from where we hosted District Connect, DSLBD partnered again with the Downtown BID to support the world-renowned Downtown Holiday Market at 8th and F Streets in the center district. I had the great fortune of joining Mayor Bowser at the opening of this event which marks the start of the local holiday season and shopped at DC's Made In DC booth, among others. Throughout the season, DSLBD made it a point to encourage shopping local and shopping small. This year, vendors experienced the best and most lucrative season yet in the market's 18-year history, having increased revenues by over 41%.
In addition to elevating and supporting our local makers, DSLBD supported the District's retailers with its fourth and largest round of Robust Retail Citywide grants since the program's 2019 inception. This year, DSLBD awarded over $1 million to over 130 businesses across all 8 Wards with up to $7,500 each. These funds acted as a lifeline for many grantees representing a host of industries, particularly those that define the character of our neighborhoods, including salons, clothing boutiques, restaurants, and fitness studios, among other retailers.
And we know it is important to support our corridors outside of the holidays as well which is why the agency continues to support retailers year-round by building more transparent, accountable, and intentional partnerships with the District's 28 Main Streets and 40 Clean Teams.
As the designated advocacy arm for small and local business, I would be remiss if I did not highlight the ways in which DSLBD continues to hold the door open to opportunities for our certified business enterprises. As the Bowser Administration commits to record-breaking spending with certified businesses in its third term, DSLBD remains ready to help these bona fide local businesses find work and to collaborate with agencies to meet their CBE spending goals.
This past December, Mayor Bowser released the eighth annual Green Book. With a focus on spotlighting our District equity impact enterprises (EIEs), this release set a small business enterprise spend goal of over $1.16 billion, the highest and most ambitious goal ever set by District government. I am pleased to report that in FY22, the Administration spent over $1.1 billion in preliminary spend in direct support of small businesses. As we finalize these numbers with OCFO, this number is sure to grow.
And to further buttress our EIEs, this past April, DSLBD created the first-of-its-kind EIE grant program to provide much-needed, targeted financial assistance, specifically for businesses meeting all three criteria of being small, resident-owned, and disadvantaged. In its inaugural round, the agency disbursed close to $1.2 million to over 240 EIEs. The agency focused on purposefully re-engaging this cohort of grantees by offering continued learning opportunities such as marketing 101 and tailored networking events allowing them to further cultivate relationships based on their unique designation as EIE within the overarching business community.
In addition to tailoring supports and services for EIEs, DSLBD stood steadfast in furthering the District's racial equity priorities by strengthening programming targeted towards traditionally marginalized populations.
Access to capital remains an obstacle for many. This obstacle was the impetus behind DSLBD's May 2021 launch of the DC Kiva Hub, done in partnership with nonprofit, Kiva U.S. Through the Hub, applicants, particularly those entrepreneurs and current business owners who struggle with the traditional bank lending process, can apply for no-barrier crowdfunded loans as well as access extensive technical assistance. To date, prospective applicants and borrowers received over 500 hours of technical assistance and submitted over 25 micro-loan applications through the Hub.
And DSLBD continues to evolve our Aspire and Dream programs. In FY21, we reimagined our Aspire programming to better support returning citizens by creating WeAspire Pitch, a 12-week cohort-based program training up to 40 justice-involved entrepreneurs in business planning, registration and licensing, and marketing. With 26 graduating entrepreneurs presenting a wide range of creative business ideas in FY22, WeAspire culminated in a final pitch competition with 6 (six) graduates winning $10,000 each and 20 winning at least $2,000 each. That same month, the renowned Dream Pitch Program, aimed at supporting microbusinesses east of the river in Ward 7 and 8, hosted a cohort of 41 participants culminating in a pitch competition where 18 participants received at least $10,000.
Last year, we launched our Just Cannabusiness equity initiative to reduce entrepreneurial barriers to the legal cannabis industry, namely for returning citizens and veterans. To date, the Department is working closely with the Latino Economic Development Corporation to launch a fund that will break down traditional lending barriers, specifically for those attempting to enter the cannabis market.
And for those CBEs seeking local and federal government contracts and procurements, DSLBD continues to fulfill its mission by identifying capacity-building opportunities. For one, we identified CBEs capable of participating in the DC Community Anchor Partnership, a collaborative effort between DMPED and Coalition for Nonprofit Housing & Economic Development. And DSLBD is working with UDC to establish a first-of-its-kind apprenticeship program giving a longtime CBE the opportunity to expand by acting as the skilled employer.
Further, in the federal space, DSLBD remains a stalwart go-to for businesses in need of one-on-one counseling services seeking local and federal contract opportunities. In FY22, clients secured over $16 million in federal contract awards.
In closing, I'd like to highlight progress on our District Enterprise System (DES) capital project. In FY22, we completed the DES's contracts module, the most comprehensive development of the system to date.
As a direct result of this upgrade, the agency can now digitalize quarterly reports, vendor verification forms, and subcontracting plans; automate the vast majority of report review processes; facilitate greater transparency among contracting officers, program teams, prime contractors, and subcontractors; and encourage interagency collaboration when adjusting subcontracting plans. This is truly and empirically, transformational. This past January, we officially monitored the first contract in the DES, which means greater effectiveness and efficiency in our compliance and enforcement efforts. I'd like to take this opportunity to invite the Committee to view a demonstration of this system.
Let me end by thanking the local business community. Your tenacity and ingenuity make it clear to all that the District entrepreneur is unmatched. I am grateful for your candor and productive partnership.
I would also like to express my appreciation for the staff at DSLBD. Despite the flux caused by the pandemic, your commitment to helping small and local businesses remains fixed. Again, remember to celebrate the inconspicuous wins and the profound personal impact your work has on those we serve. Your day-to-day dedication to our local businesses ensures that our neighborhoods and communities realize real results.
And last, but not least, I would like to thank our Mayor of Firsts, Muriel Bowser, whose leadership continues to be a global, national, and local example for all as we wade through the uncharted territory of a pandemic comeback.
Again, I appreciate the opportunity to testify before you today, and I look forward to answering your questions.