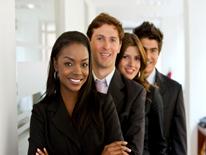 For technology firms, there are contracting opportunities as the public sector's IT needs continue to grow and evolve. Below are some of the opportunities that are available. For more information about opportunities, please contact us at [email protected].

Information Technology Staff Augmentation
ITSA is the District's method for the procurement of IT staff augmentation contractors. ITSA is primarily focused on increasing the efficiency of the District's IT staff augmentation procurement practices and providing District CBEs (Certified Business Enterprise) with a system dedicated to transparency and neutrality. Since implementation, the program has made great strides in raising process efficiency, reducing the procurement timeline for all involved parties, lowering cost for the District government, and increasing process transparency.

OST is continuously training new agencies to participate in the program. All requirements for IT staff are located on the District of Columbia's Public Data Site, available at data.dc.gov.

The ITSA Website http://itsa.ostglobal.com/ has more information about the program and firms can see the current ITSA openings by clicking the link in the bottom right (last under the "Vendor" section).

ITSA provides a great to introduce your firm to public sector work through a short term contract.

RFP EZ
The Small Business Administration is working on a pilot project to make it easier for small businesses to sell to the Federal government, and for the Federal government to buy technology from the private sector. The result of the project was RFP-EZ. The pilot site makes it easier for small firms to find a bid on government projects. It is a great way to get introduce to federal government contracting without some of the hurdles that have traditionally kept high technology firms from participating. Please find more information here: https://rfpez.sba.gov/

Learn More
To learn more about contracting in the District or to learn about Federal contracting please visit the main DC Department of Small and Local Business website http://dslbd.dc.gov/ and the Procurement Technical Assistance website http://dslbd.dc.gov/service/procurement-support.