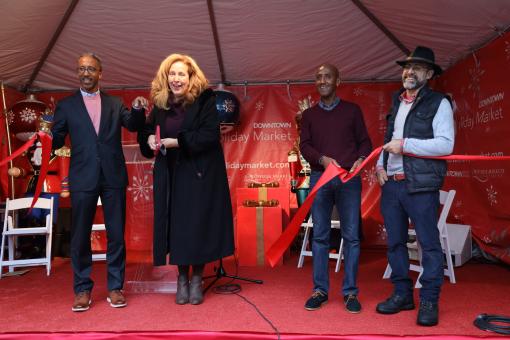 The District's Department of Small and Local Business Development has officially kicked-off the #ShopSmallDC holiday season!
On Friday, Nov. 22, DSLBD recognized the official start of the holiday season with the launch of a brand new "Holiday Market Central" and remarks from agency Director Kristi Whitfield at the opening of the DowntownDC BID Holiday Market.
The brand new digital Holiday Market Central website is a curated list of DOZENS of holiday markets that will appear in the District between now and the end of 2019, with each market featuring "Made in DC" artists and other small business owners that design, make, produce, and/or assemble products in the District.
The Holiday Market Central currently boasts a variety of diverse markets and pop-ups, including Eastern Market Main Street's The Holly Days, GRUMP Holiday Market and Dear Black Santa: A Black Owned Holiday Market.
The curated list will help anyone looking for unique gifts find something perfect for everyone on their list. See the current list of holiday markets, and learn more about the success of the Made in DC Program and our DC artists and makers.
The Made in DC program was established in 2016 as a response to the growth in the maker and creative economy in D.C. In June 2019, Made in DC partnered with the Metropolitan Washington Airport Authority to open a first-of-its-kind retail pop-up in the terminal at Reagan National Airport. The retail pop-up has been so successful since its opening, Marketplace Development, the company responsible for developing and managing Reagan Airport's concession programs, put forth a plan to keep the retail pop-up open for the foreseeable future after initially agreeing to a much shorter stint.
The 20 different makers featured in the Made in DC pop-up make and sell items ranging from apothecary and food products to apparel, art and jewelry.
Made in DC also partnered with the Smithsonian earlier this year to create a dedicated space for its maker members to sell their products in the Renwick Gallery and National Portrait Gallery