DSLBD Training and Event Calendar
DSLBD supports the growth and development of District small businesses and entrepreneurs through advocacy and education and offers regular training sessions and workshops on topics that are important to the small and local business community.

Partner Events & Educational Opportunities: Learn more about other small business events and training opportunities hosted by DSLBD partner organizations and District agencies.
On-Demand Learning: Many of DSLBD's training sessions are recorded (from 15-minute interviews with business owners to entire courses on selling to DC Government) and available for viewing at any time.
#BuildBackBetterDC Video Series: DSLBD's Build Back Better DC video series provides District small businesses with unique access to advice and useful tips, resources, timely information and in-depth conversations with industry leaders across the various sectors.
Upcoming Events Calendar: The DSLBD Training and Event Calendar presents a glimpse of DSLBD hosted events, webinars and discussions. To view complete descriptions and information about upcoming educational opportunities, click on the item in the calendar to learn more and register for the event. Scroll down to see a quick glance at currently scheduled DSLBD events.

Upcoming DSLBD-Hosted Training Sessions and Workshops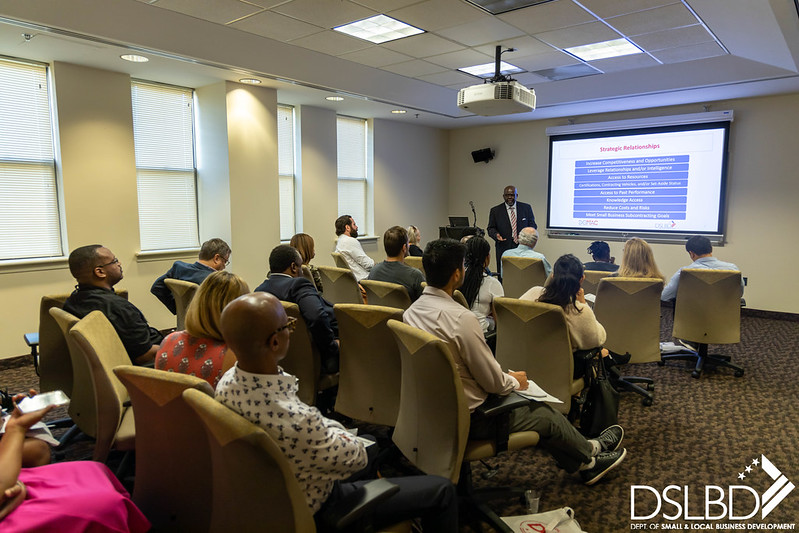 DISTRICT CONNECT 2020: DC's Small Business Contracting Expo
Date: Wednesday, November 18, 2020 to Friday, November 20, 2020
Location: All Virtual
View more currently scheduled DSLBD training sessions and workshops in the DSLBD Event Calendar
Contact the DC PTAC team for more information on DC PTAC events/trainings, [email protected]
Contact the Inno.ED team for more information on Inno. ED and/or Made in DC events/trainings, [email protected]

Partner events and training sessions
View a sampling of upcoming events from other District Government agencies and partner organizations
Visit the DC Business Toolkit for a more complete list of events, workshops and networking opportunities from around the District and within the District Government