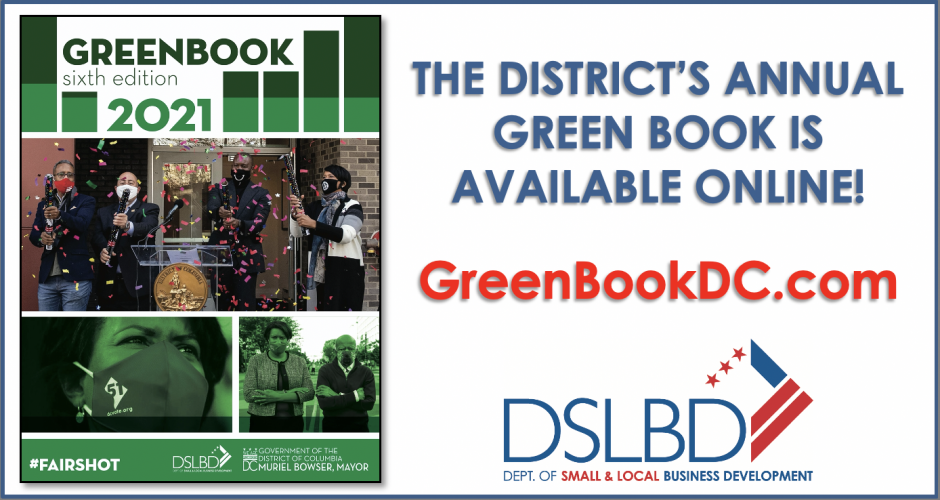 Green Book: Small Business Enterprise (SBE) Opportunity Guide
Recently Mayor Bowser announced this year's Green Book, the Fiscal Year 2020 (FY20) SBE Spend and new Fiscal Year 2021(FY21) SBE Spend Goal with Small Business Enterprises (SBE). It brings me great pride to inform you that - even in the midst of a global pandemic - the District has once again surpassed the Annual SBE Spend Goal of $910 million by reaching an all-new high of $976 million spent with SBEs.
In addition to the PDF version of the book that you've come to know and love, the website is equipped with the all-new interactive
District Spend Data Dashboard
that will help you hunt for opportunities in a variety of ways:
More Data. The dashboard includes data on all available opportunities for each agency — way more than we could fit in the book!
Searchable. Information can be sorted in a variety of ways, by agency, by category, by keyword and NIGP codes.
Interactive. Visuals help contextualize data in the Green Book and quickly understand the opportunities available to small businesses in DC.
Mayor Bowser knows that in these challenging times, it is more important to keep local dollars local and we know that making the Green Book searchable and interactive is one component of meeting this year's critical goal of $917 million.
---
Attend a Greenbook Workshop
DSLBD also offers regular workshops on how the use the
Greenbook
and find opportunities for your District business. See below for list of the dates and times of upcoming
Greenbook
workshop and how to attend.
About the Green Book: Small Business Enterprise Opportunity Guide
In Fiscal Year 2016, Mayor Bowser charged the Office of the Deputy Mayor for Greater Economic Opportunity (DMGEO) and DSLBD to develop a guide designed to help Small Business Enterprises (SBEs) navigate the procurement opportunities available at District agencies. As such, DSLBD now annually develops the SBE Opportunity Guide with support from the Office of Contracting and Procurement and the Office of the Chief Financial Officer.
The Guide provides details on each monitored agencies budget, outlines the goal setting process for each agency, and identifies planned acquisitions and areas where spending waivers were applied.
View previous Green Books: