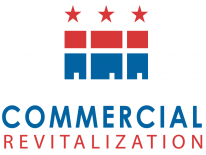 Our revitalization programs provide services and funding to help retail corridors and strengthen our neighborhoods to improve the quality of life for everyone living in the District.
Small and local retailers are found in clusters along the traditional commercial corridors. DSLBD supports nonprofit organizations working to revitalize the District's retail districts through our neighborhood renewal programs.
BIDs - DSLBD certifies and re-certifies all the Business Improvement Districts located in the city.
MAIN STREETS - DSLBD provides technical assistance and grants to community leaders seeking to use the Main Street Four Point Approach® to revitalize their commercial districts.
CLEAN TEAMS - DSLBD cleans the sidewalks and removes graffiti in designated retail corridors.
Grants from DSLBD can help small and local business owners improve their business storefronts or expand store hours. Our grant programs are targeted to either help specific parts of the District or help businesses facing targeted issues. For example, if you currently have a business located in the District, check the
Grants Assistance
page to see if we have a program for you.
Art All Night takes place across the District in DC Main Streets neighborhoods, bringing visual and performing arts, including painting, photography, sculpture, crafts, fashion, music, dance, theater, film, and poetry, to indoor and outdoor public and private spaces, including businesses.